Fall Treats: Lavender Hot Chocolate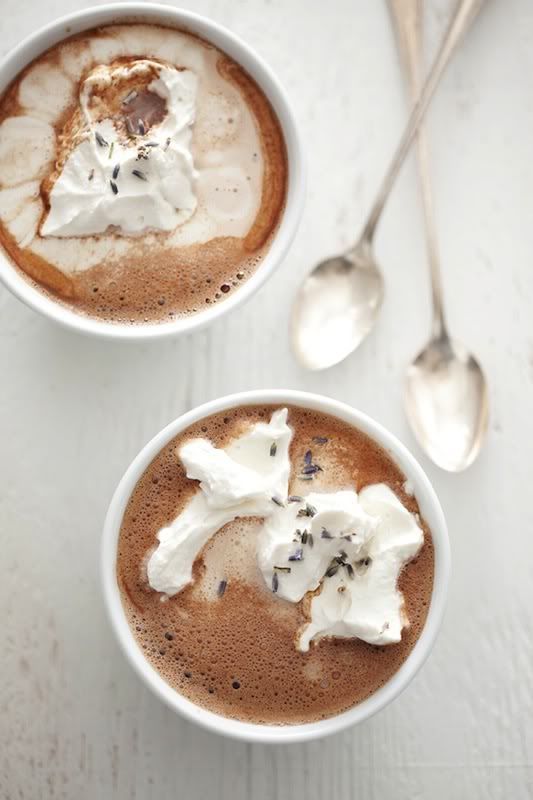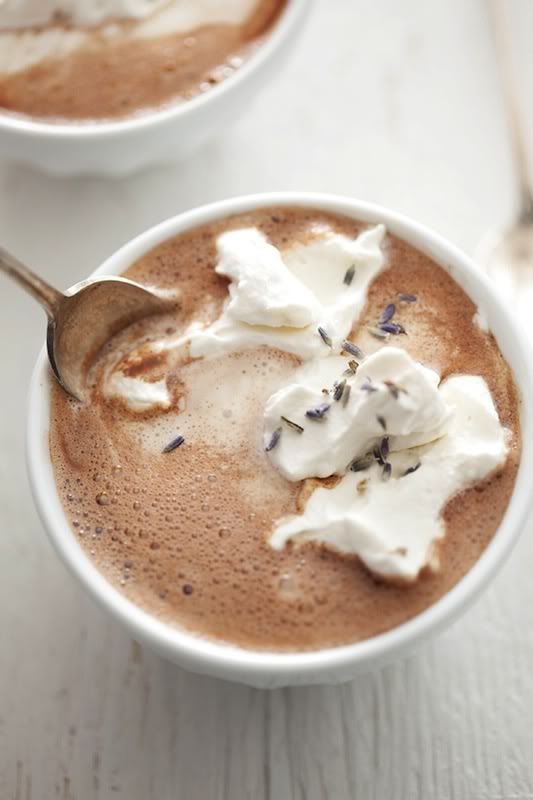 To get into the Fall mood I decided to make tasty Lavender Hot Chocolate! I added my own twist by making the lavender hot chocolate vegan friendly! So yummy!
Since lavender is quite fragrant, adjust amount according to preference. For a creamier hot chocolate, a 1 to 1 ratio of dark to milk chocolate can be used. Makes 2 servings.
hot chocolate:
2 cups soy milk
3 ounces dark chocolate (70% cacao)
1/4 teaspoon lavender buds
whipped cream:
1/2 cup cold heavy whipping cream or soy cream
1/4 teaspoon vanilla extract or seeds from 1/4 of a whole vanilla bean pod
1/2 tablespoon granulated white sugar or stevia
For whipped cream, place cold cream, vanilla, and sugar into a cold mixing bowl. Beat the mixture with a whisk or mixer until stiff peaks form. keep refrigerated until ready for use.
For hot chocolate, heat soy milk and lavender over medium heat, whisking occasionally until the milk begins to simmer. Remove from heat and let lavender steep for 5 minutes. Strain lavender and return milk to saucepan. Over medium heat, add chocolate and mix until chocolate is melted and incorporated. Whisk milk mixture for 10-20 seconds until frothy. Pour into mugs or bowls and serve with a dollop of whipped cream.
I ADAPTED THIS FOR VEGANS :)
via alamodejournals

You'll
♥
Loading related posts from sailthru...
---
blog
At the peak of Blink-182's fame, Tom DeLonge had a lot of ideas kicking through his head. At a tour stop in Paris, sitting his hotel room, the singer came up with the concept of a character named Poet Anderson. Now, nearly 15 years later, he's ready to incorporate that idea into a much larger and ambitious project with Angels & Airwaves than he's ever attempted before.
Partner